Uptown Social Community Center Holds Official Groundbreaking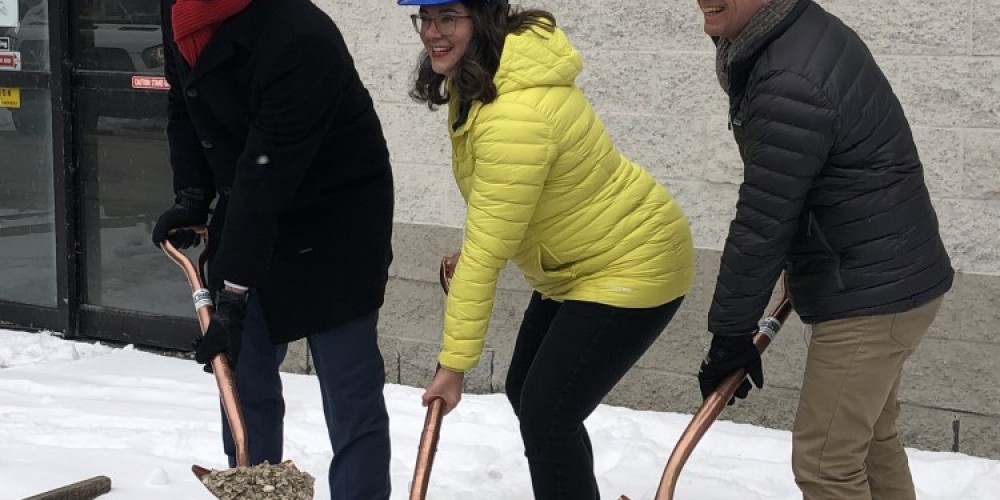 SHEBOYGAN – The much-anticipated Uptown Social community center, which is dubbed as Sheboygan's Hub for Active Seniors, held an official groundbreaking ceremony on Monday, March 7. The event featured local politicians, business leaders, nonprofit leaders and community members, who came to 1817 N. 8th St. to celebrate the groundbreaking.
Among the political leaders attending the ceremony were Sheboygan Mayor Ryan Sorenson, City Administrator Todd Wolf, Alderpersons Barb Felde, Roberta Filicky-Peneski, Grazia Perrella, Dean Dekker and Andre Walton, State Representative Terry Katsma, and Sheboygan County Board Supervisors Bob Ziegelbauer and Marilyn Montemayor.
"I think this is an exciting opportunity. Community centers are essential for quality of life and the vibrancy of a community, so it's great to see so many citizens of Sheboygan out here, so many great community partners. This is an exciting time for the city, as we grow and become stronger," said Mayor Sorenson.
The event was also attended by representatives of U.S. Congressman Glenn Grothman's and U.S. Senator Tammy Baldwin's offices, along with representatives from the Sheboygan County Chamber of Commerce, the Sheboygan County Economic Development Corporation and other local organizations.
Uptown Social's Director of Senior Services, Emily Rendall-Araujo, spoke for both herself and others when she expressed her gratitude for the long-awaited groundbreaking.
"A lot of our folks have been very patiently waiting for this project. It's been since March of 2020 when the old building was shut down, and it's taken awhile, but good things take time. We're really excited for this facility to serve Sheboygan's older adults for the next few decades," said Rendall-Araujo.
Uptown Social, which occupies the former Save-A-Lot supermarket building on 1817 N. 8th St., will include a cafe, game room, creative studio, activity room, indoor walking track, hospitality room and administrative space as part of the first round of construction.
The renovations are being done by contractor J.H. Hassinger, Inc. of Menomonee Falls, who bid $3.482 million to complete the project. The majority of the funding is coming from a $2.7 million federal Housing and Urban Development loan, with the remaining $782,000 coming from American Rescue Plan Act dollars.
Construction is currently scheduled to be completed in November, according to Rendall-Araujo, but supply chain and employment issues could cause delays. Despite these challenges, significant progress has already been made.
Exterior and interior demolition began in January and is now complete, and electrical, mechanical and plumbing sub-contractors are currently roughing-in for their systems, according to Rendall-Araujo.
As weather improves, roof work will begin, windows will be installed, and exterior painting will be done. In late March, an I-beam will be installed to replace one support column in what will become the gymnasium. The gymnasium will be completed during the second round of construction in 2023.
Read the entire article here: Sheboygan Sun